Product Description:
- Advantageous Material: Not made of ordinary plastic, but the high-quality acrylic which easily makes the tray sturdier and smoother than normal plastic, also without worrying about getting rusty as metal ones or hard to be cleaned like wooded ones.
- This type may be a little weightier than normal round plastic ones, but it's not too heavy to carry. We just want to make it much stronger and sturdier for you to use.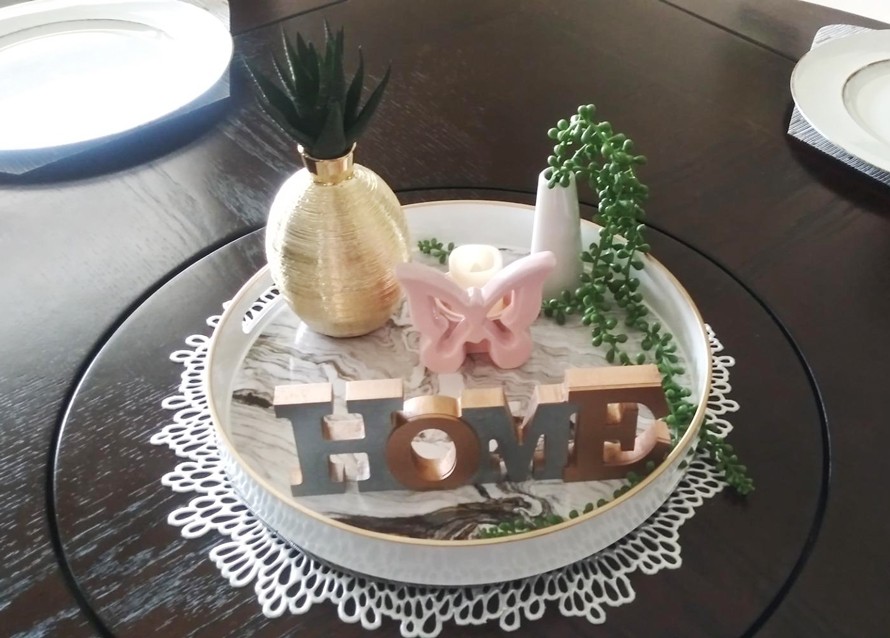 Versatile & Utility Tray - Designed for display and storage, this acrylic tray can be used as a decorative tray, a makeup tray, a jewelry tray, a serving tray, and a desk organizer tray.
Modern and Elegant - Trendy round tray designed with white marbling pattern on the inner bottom surface + chic gold top edge, easily outshining other types and making your things much shinier and prettier.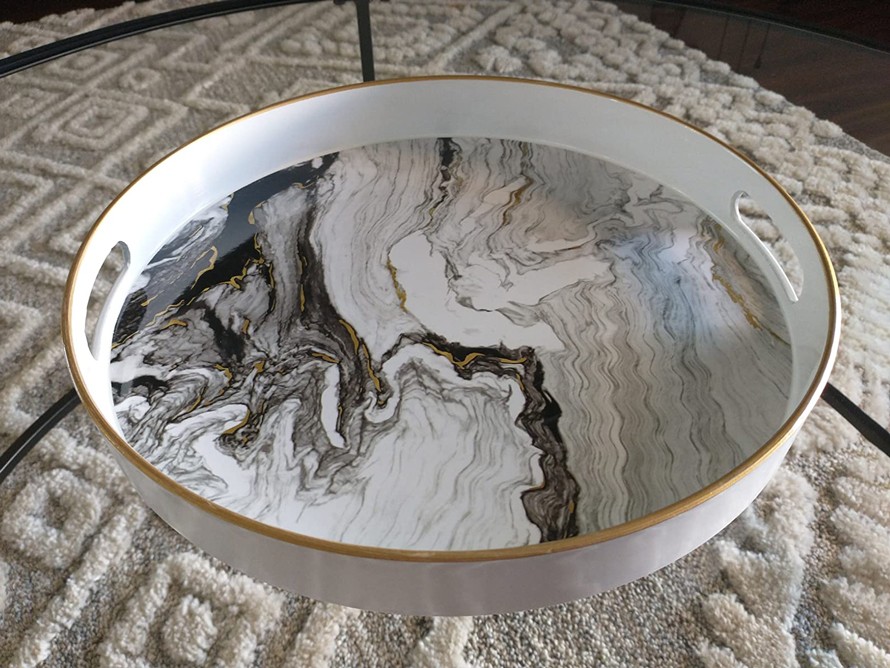 Durable Material - Made of high-quality acrylic in the right depth, it's sturdy to hold, spill-proof to clutters, smooth to be carried, simple to be cleaned with a damp cloth.
Convenient to Use - Round shape makes it easier to blend into small or bigger tables, large enough to decently keep decors, makeups, foods, and other supplies. 2 built-in handles make it comfortable to move or carry.
Useful for All Occasions - (1) A classy accent tray to ottoman, nightstand, coffee table, dining table, entry table, dresser, etc. (2) Except for daily use, it's also a reliable helper for various occasions like Christmas, birthday, wedding, baby shower, housewarming, and other parties.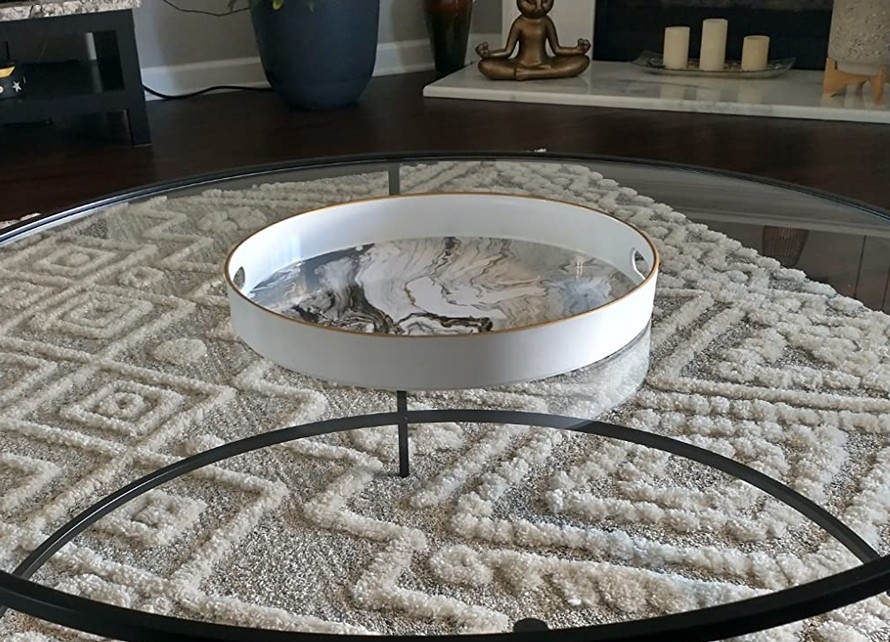 Uses of 3 different shapes of marble trays!
Round Marble Tray
The round marble tray can serve two purposes-cutting board or tray. If you want to prepare desserts for your guests, you can directly put the fruits and desserts you prepared on this marble board for them. If you want to put something in the bathroom or bedroom, it will also be very delicate and beautiful.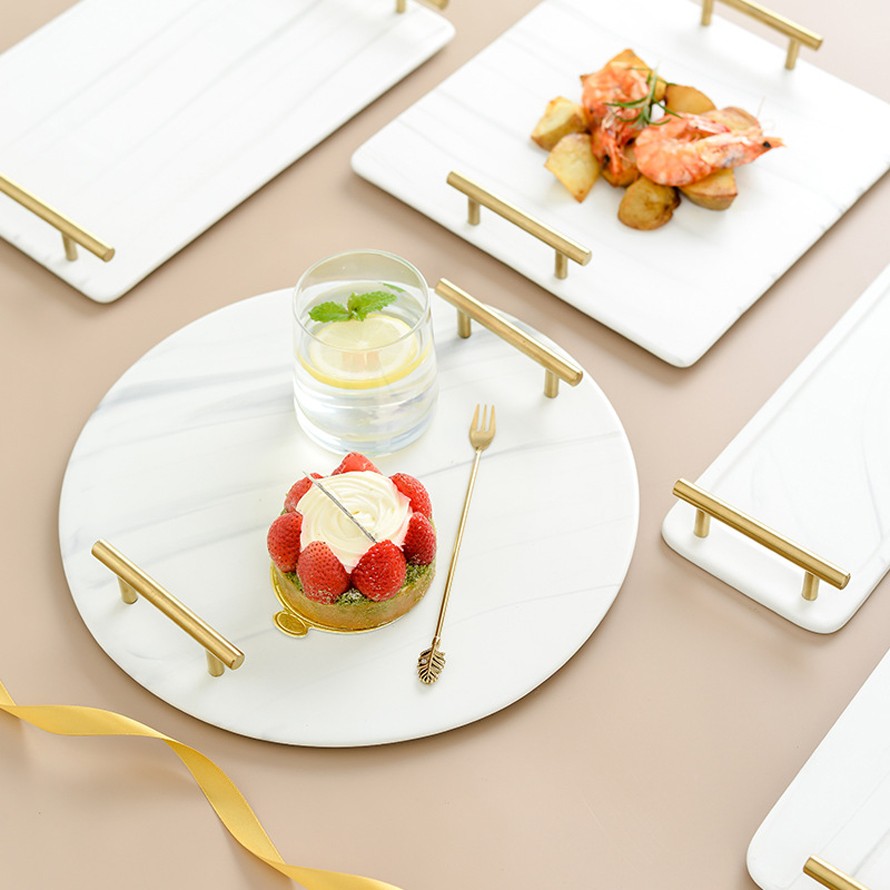 This product can be used as a container for delicate pastries, making you enjoy an elegant and ritual afternoon tea.

The color of marble is versatile and pure white, which can be used as a background for the dessert when taking photos to highlight the delicacy of the dessert and the style of the user.

In the use of marble tray filled with food, in order to avoid the oil or other material on the food deep marble affect the use of, it is suggested that you in the product before the use of a piece of oil-absorbing paper to avoid the occurrence of this situation.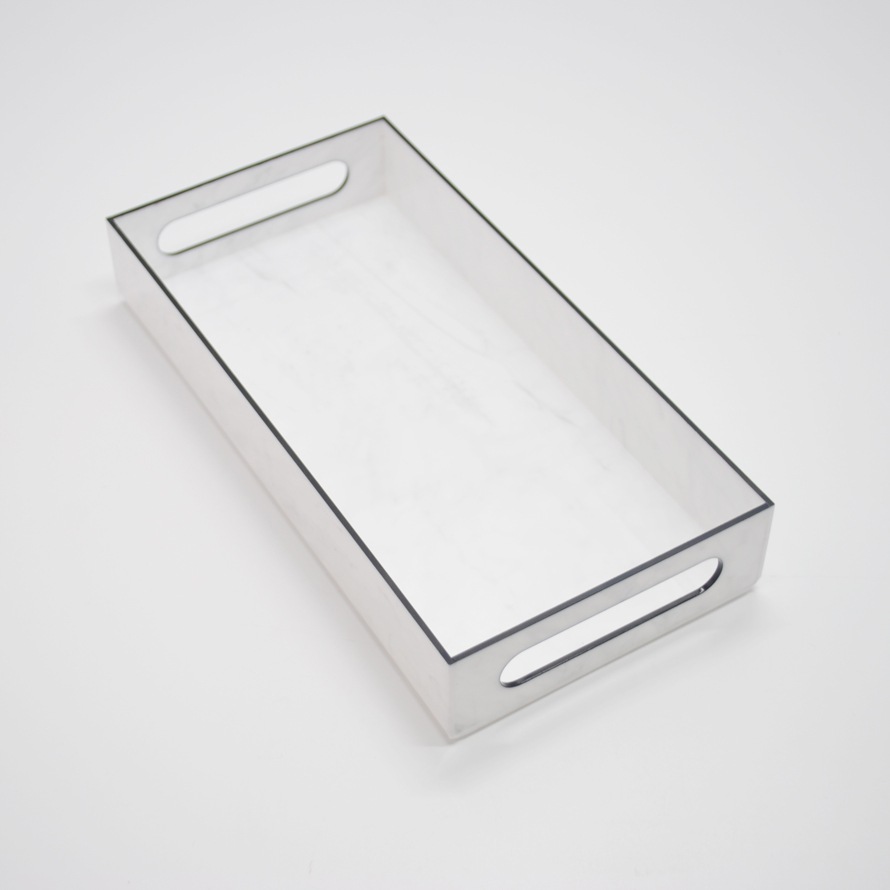 Square Marble Tray
The rectangular marble tray is more convenient to put some trivial debris and will not fall. No matter where you put this tray in your home, it will make your home look neat and beautiful. And the simple design of this white marble pallet is more popular.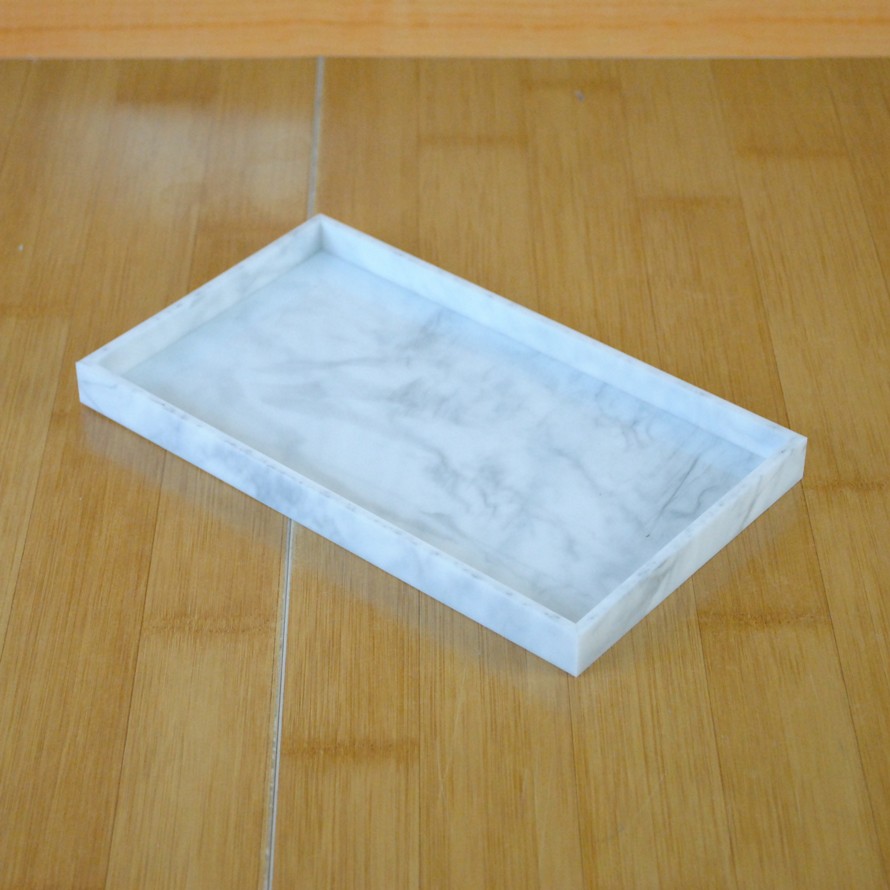 Use a jewelry holder tray, makeup tray to showcase your beauty must-haves: cosmetics, lipsticks, foundations, eye shadows, perfumes!

Help to store your cosmetics and make your makeup table tidier.

If the makeup is accidentally dirty by cosmetics, use water to rinse can be cleaned.

If you accidentally scratch the surface of the product, you can use a clean cotton cloth dipped in toothpaste to wipe it can alleviate this problem.

Marble trays are easy to clean and do not absorb stains. Therefore, just clean with water or a weak detergent, and then wipe with a cloth.
This marble tray has a golden handle, this design style is more simple and advanced. It is most suitable for desserts and coffee during afternoon tea. You can also put your bathroom suite, glasses, and other sundries in the bathroom or bedside table.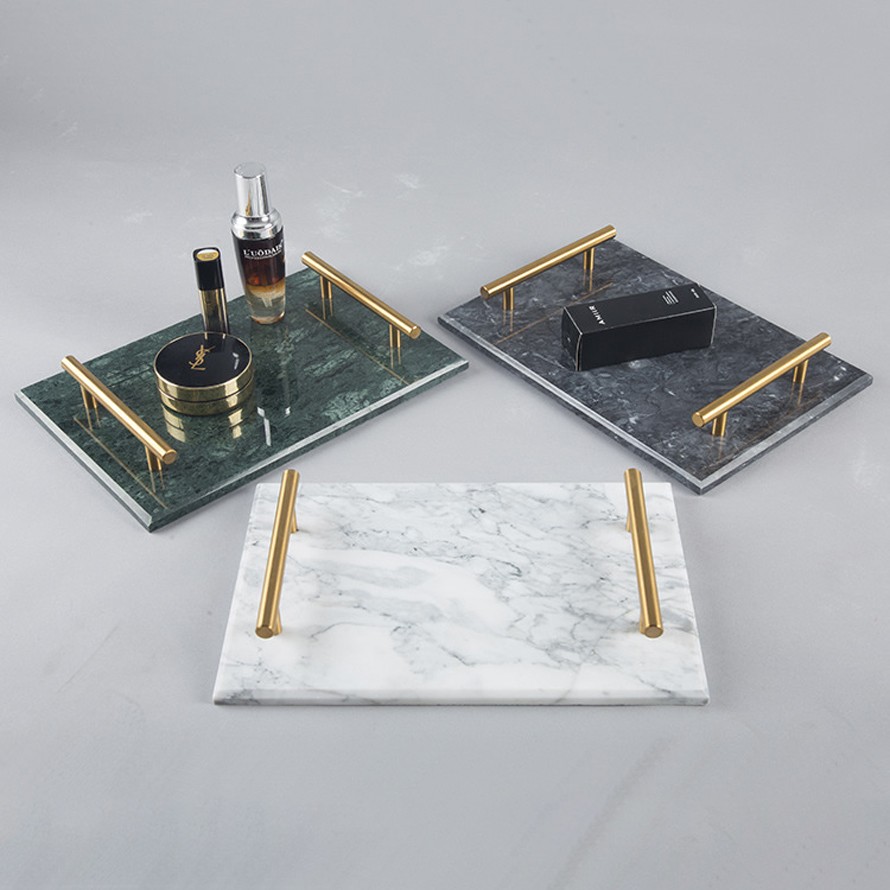 Marble tray adopts a simple style design, can better integrate into each kind of room design style.

It can be placed on the bedside ark to receive scattered articles, save more space for you.

Due to the handmade, each product has a different marbling pattern, which makes your room look more stylish.

It can be suitable for many colors and styles of home decoration, redefining the tray combined with incredible craftsmanship and wonderful appearance, to provide you with an eye-catching style.
Sweet Gift Ideas
Are you still worried about choosing holiday gifts, birthday gifts, and house-warming celebration gifts? The acrylic serving tray is an ideal gift for family or friends at Easter, Mother's Day, Valentine's Day, Christmas, birthday parties, or wedding parties. The exquisite and unique style will definitely be loved by everyone. They will definitely thank you for providing them with trays that can be neatly arranged and stored things.
About Acrylic Display/Acrylic Boxes or Other Acrylic Products Customization:
All our Acrylic Display/Acrylic Boxes are custom, The appearance & structure can be designed according to your requirements, Our designer will also consider according to the practical application and provide you the best & professional advice. So we have MOQ for each item, at least 100PCS per size/per color/per item.
Creative Design:
We will design according to your product's market positioning and practical application, Improve your product image and visual experience.
Recommended Plan:
If you do not have clear requirements, please provide us with your products, our professional designer will provide you several creative solutions, and you can choose the best one, We also provide OEM & ODM services.
About The Quotation:
The quotation engineer will provide you a quotation comprehensively, combining the order quantity, manufacturing processes, material, structure, etc.
CONTACT US FOR HELP WITH CUSTOM SOLUTIONS TO BEST DISPLAY YOUR PRODUCT!