Each rose arrangement comes in an elegant acrylic box with 9 preserved roses. The acrylic box features a drawer that allows you to organize your favorite items, such as cosmetics and jewelry. It is the perfect gift to celebrate anniversaries, birthdays, mother's day, valentine's day, thanksgiving, wedding, marriage proposal, baby showers, or just because you or your special someone deserves it.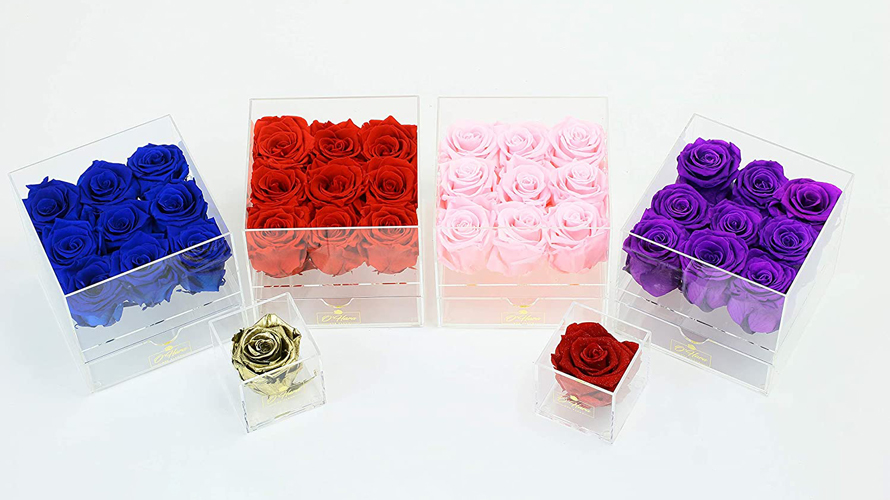 You want a display case that is crystal clear and will show off the gambit of wonderful colors your brilliant flowers create. Our light and durable cases are hand-crafted from crystal-clear acrylic that will display your enchanting flowers as vibrantly as if they weren't in a case at all. Add color to your home. Proudly protect and display your flowers, and your story, with a Better Display Case.
100% Acrylic Material + Handmade
About Acrylic Display/Acrylic Boxes or Other Acrylic Products Customization:
All our Acrylic Display/Acrylic Boxes are custom, The appearance & structure can be designed according to your requirements, Our designer will also consider according to the practical application and provide you the best & professional advice. So we have MOQ for each item, at least 100PCS per size/per color/per item.
Creative Design:
We will design according to your product's market positioning and practical application, Improve your product image and visual experience.
Recommended Plan:
If you do not have clear requirements, please provide us with your products, our professional designer will provide you several creative solutions, and you can choose the best one, We also provide OEM & ODM services.
About The Quotation:
The quotation engineer will provide you a quotation comprehensively, combining the order quantity, manufacturing processes, material, structure, etc.
CONTACT US FOR HELP WITH CUSTOM SOLUTIONS TO BEST DISPLAY YOUR PRODUCT!