Product Description:
MULTI-PURPOSE: This Clear Acrylic Serving Tray is a multi-purpose necessity for any home and an ideal decorative companion for your ottoman and coffee table. With handles on the side, the tray is easier for serving meals, snacks, coffee, drinks, desserts, serving breakfast in bed, arranging toiletries and cosmetics on a bathroom vanity, storing remote controls in the living room, and turning your sofa into a cozy workstation.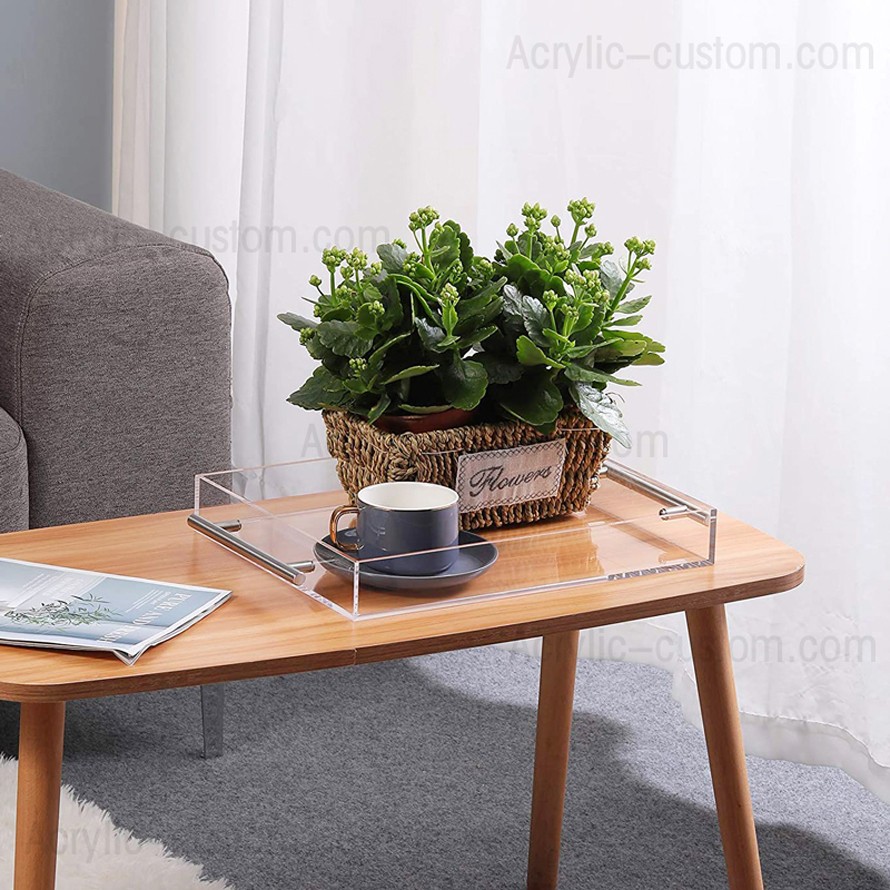 DURABLE LONG LASTING DESIGN: The tray is made of thick Lucite making it sturdy and durable for years of use. The tray's solid metal handles remove the hassle of carrying take-out food, a pita and hummus platter, or fruit and veggies. The tray's chic design will blend in with the décor of any room and compliment your sofa, kitchen island, nightstand, and bar countertop.
Product Details:
1. Dimensions: 11x14x2H Inch. Weight: 2.3 LBS
2. Use it for serving beverages or food such as coffee, tea, breakfast, lunch, dinner, appetizers, cheese, wine, fruit, and much more.
3. Use it as an organizer for your living room, bathroom, bedroom, kitchen, office. Keep your home from having to clean up messes.
4. Use it as a decorative tray for your entry door, lobby, ottoman, vanity table, or countertop.
5. This serving tray is made of premium acrylic for years of use. The modern and eye-catching appearance will be an elegant accent in your home or workplace.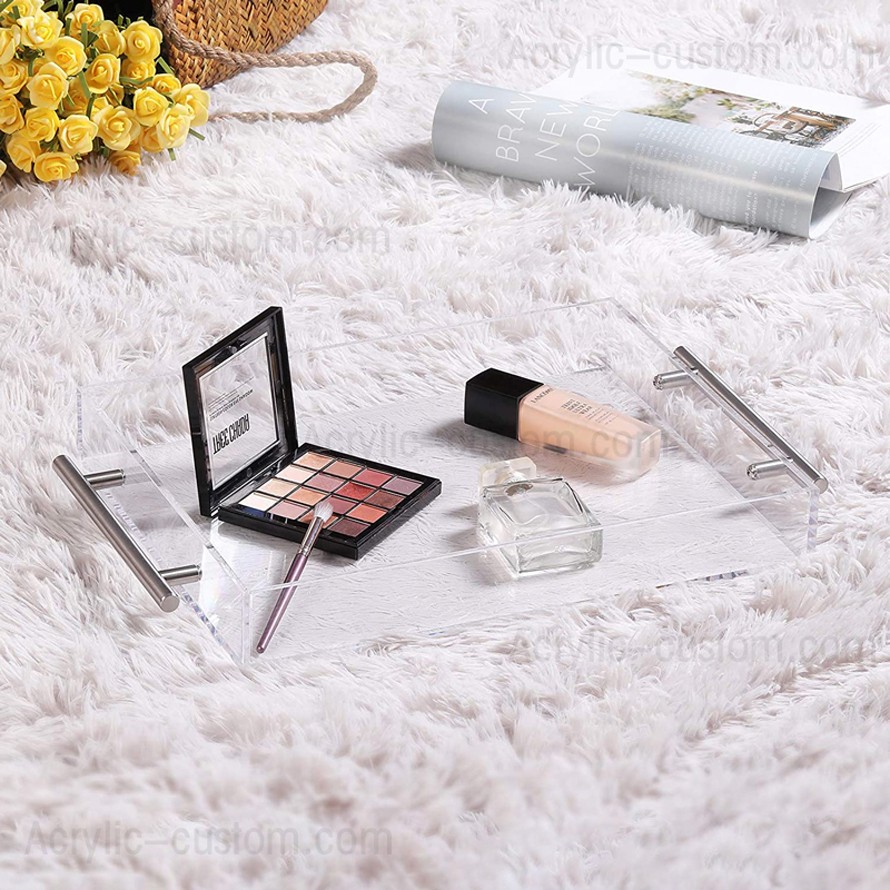 SPILL-PROOF: Unlike other flawed designs available elsewhere, our design will contain spills and messes. The corners of the tray are sealed to contain spills from dripping through the edges. perfectly to place under a coffee maker, hold wine bottles in the bar. Throw a fondue party or carry cookies and milk with these trays on the ottoman. Your messes can be wiped away with a clean paper towel or use a damp cloth to remove stickiness.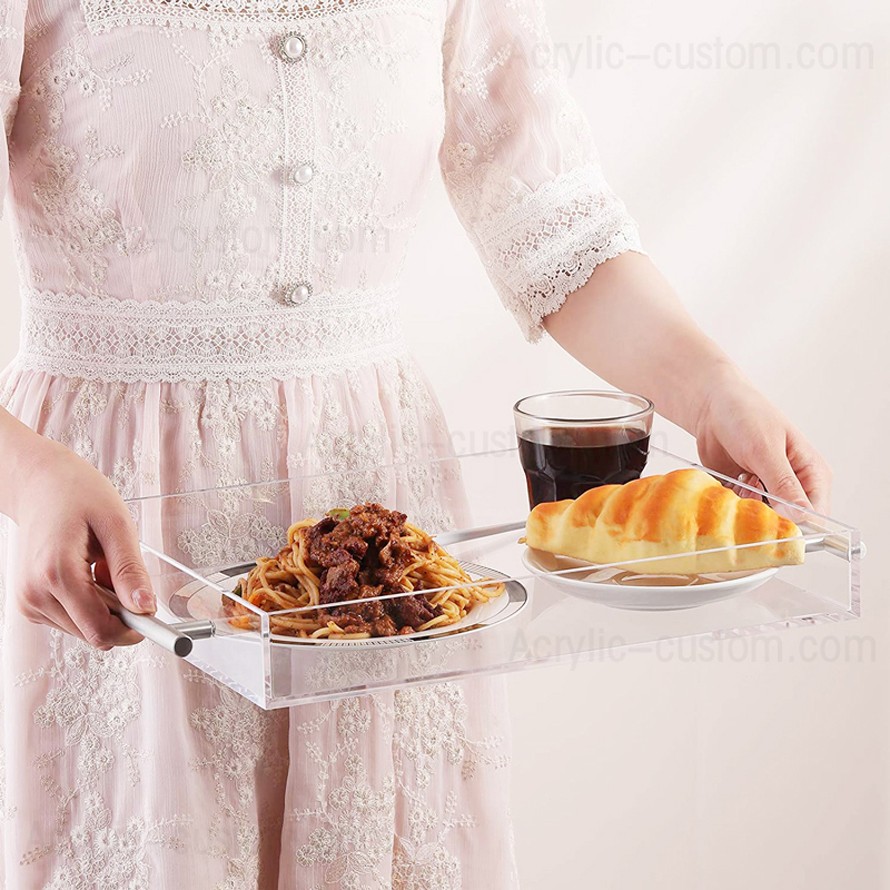 MULTI-USE: Not only does this versatile tray make a lovely caddy for scented candles but it can be used as a cosmetics and makeup tray, an electronic tablet holder, or a dessert-serving tray. Display your collection of bourbon glasses, storage mason jars, decorative bowls, and flower bouquets on this sharp accessory. Whether you use the tray as a chic home for vintage barware, or a cute tray to store your children's books, the possibilities are seemingly endless!
About Acrylic Display/Acrylic Boxes or Other Acrylic Products Customization:
All our Acrylic Display/Acrylic Boxes are custom, The appearance & structure can be designed according to your requirements, Our designer will also consider according to the practical application and provide you the best & professional advice. So we have MOQ for each item, at least 100PCS per size/per color/per item.
Creative Design:
We will design according to your product's market positioning and practical application, Improve your product image and visual experience.
Recommended Plan:
If you do not have clear requirements, please provide us with your products, our professional designer will provide you several creative solutions, and you can choose the best one, We also provide OEM & ODM services.
About The Quotation:
The quotation engineer will provide you a quotation comprehensively, combining the order quantity, manufacturing processes, material, structure, etc.
CONTACT US FOR HELP WITH CUSTOM SOLUTIONS TO BEST DISPLAY YOUR PRODUCT!