Product Description:
This acrylic box is used to hold the wedding card. Exquisite design and high-quality box will make your wedding better. It can not only hold cards, in a sense but it is also used to store the best wishes from your family and friends to you and save the best moments of the wedding. The handle, lock, and four corners of the box are made of brass elements, which make the transparent box more beautiful. Handle design, convenient for us to use it. The card slot on the top of the box is used to hold cards,makes it more ritualistic.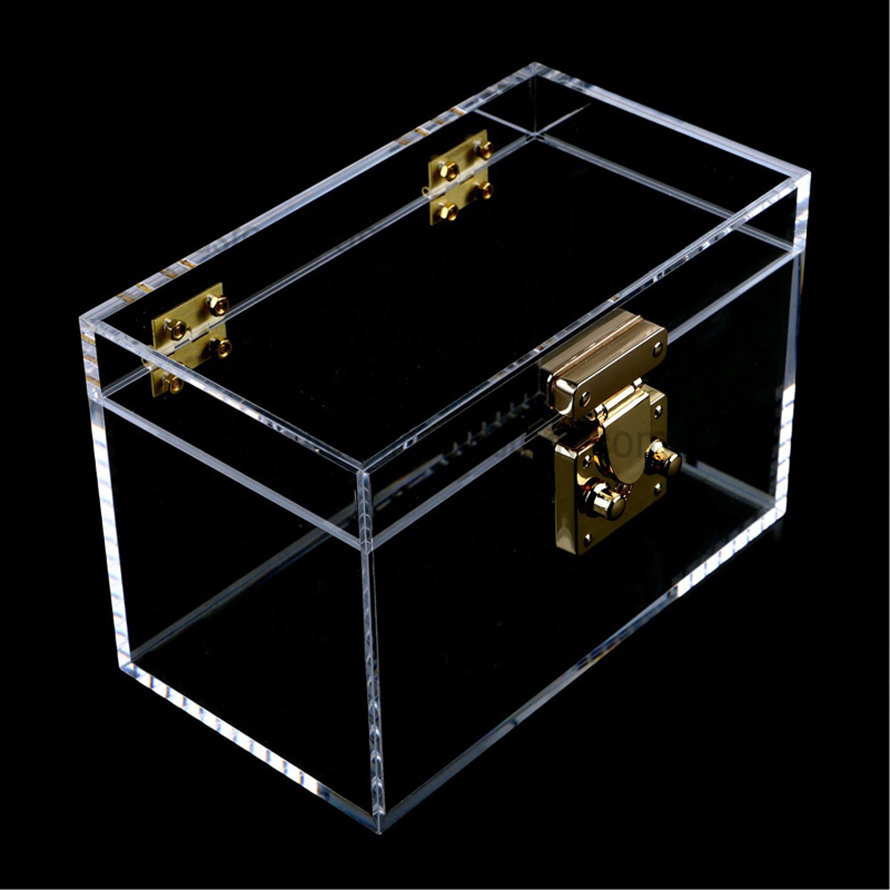 Custom and Personalized Acrylic Wedding Card Box
Never miss a chance to get your name and logo seen. Let our experts help you customize these fun acrylic boxes by printing or hot-stamping your logo, or even completely customize the color and design.
What are the Benefits of Acrylic Boxes?
There are a variety of benefits to using acrylic boxes to store goods, In retail stores, they are perfect to use as dump bins that keep your merchandise safe, secure, and beautifully displayed. Accessories, wrapped candy, beauty products, jewelry, and decorative objects are just some of the many examples that work perfectly inside of high clear acrylic boxes. Acrylic display boxes also help preserve the quality of your inventory by protecting your goods from dirt, debris, and dust, while serving as a sleek storage alternative for your at-home needs. Use them inside of your bathroom or kitchen to store cotton balls, soaps, kitchen goods, and other household toiletries. Easy to move around and rearrange, acrylic boxes keep items organized while making it easy to change their placement for ever-changing, dynamic visual displays.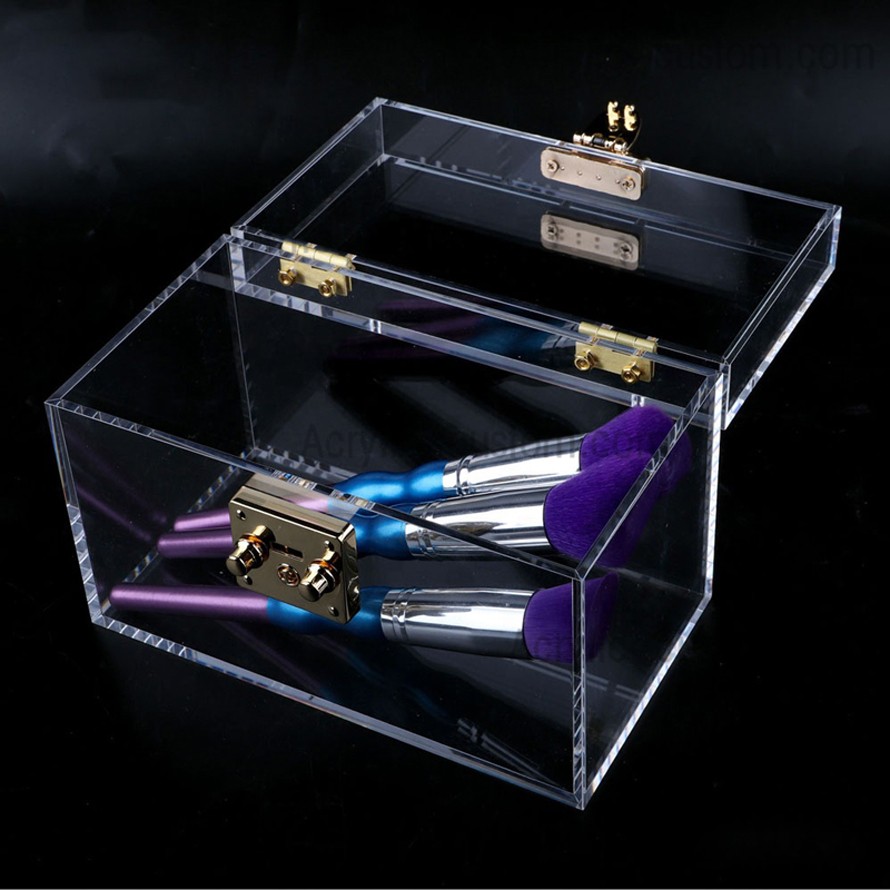 Are Acrylic Boxes Strong?
Yes, acrylic boxes are durable and reliable. Suitable as an impact-resistant alternative to glass boxes, they are also stronger, more shatter-resistant, and resistant to the elements and erosion than their glass box counterparts. Acrylic boxes are an ideal solution for in-store displays, because of their resilience to breakage, making them a smart option for visual presentations. It takes a considerable amount of force to crack acrylic boxes compared to glass, so not only it is safer for a retailer it is also a cost-effective, long-term investment.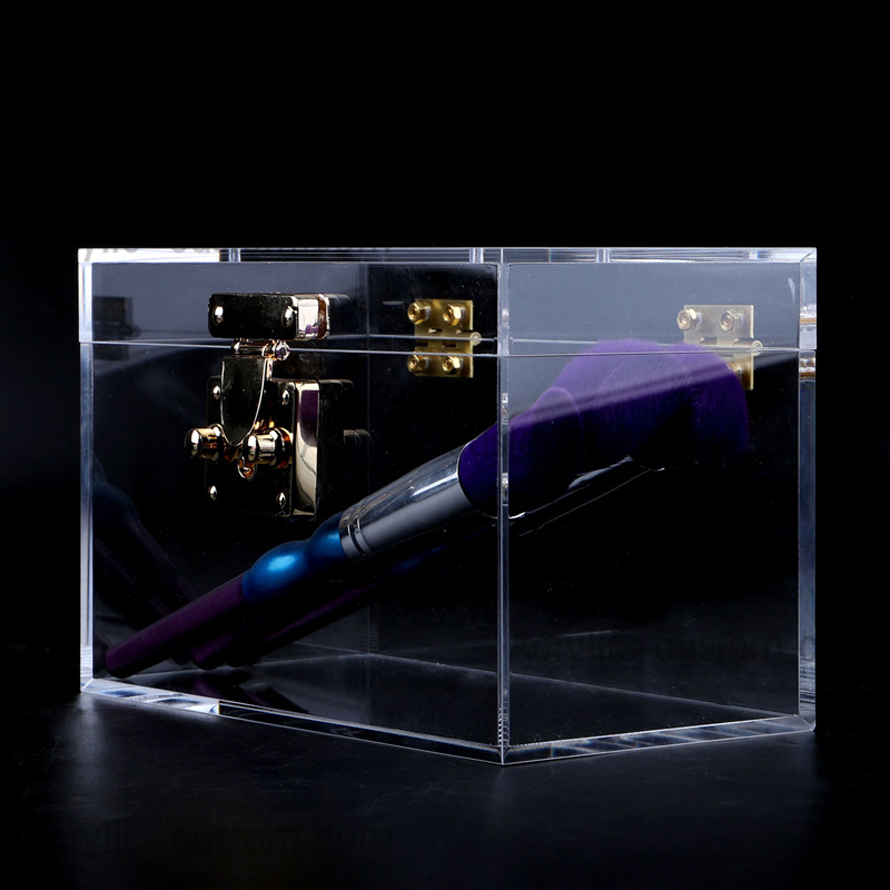 Advantages of acrylic display box:
1. In addition to its unparalleled high brightness, acrylic is also tough, not easy to break, and bright in color, which can meet the individual pursuit of different tastes.
2. Shape customization. Acrylic display boxes can be customized in various special shapes. Through a laser cutting machine, the acrylic can be carved into the desired shape to make the appearance of the display box more personalized and exquisite.
3. The high-definition picture content of the acrylic display box, the arc cutting edge is smooth and the precision is high, and the high-precision laser cutting machine can make the acrylic cutting edge smooth and round without hurting your hands.
About Acrylic Display/Acrylic Boxes or Other Acrylic Products Customization:
All our Acrylic Display/Acrylic Boxes are custom, The appearance & structure can be designed according to your requirements, Our designer will also consider according to the practical application and provide you the best & professional advice. So we have MOQ for each item, at least 100PCS per size/per color/per item.
Creative Design:
We will design according to your product's market positioning and practical application, Improve your product image and visual experience.
Recommended Plan:
If you do not have clear requirements, please provide us with your products, our professional designer will provide you several creative solutions, and you can choose the best one, We also provide OEM & ODM services.
About The Quotation:
The quotation engineer will provide you a quotation comprehensively, combining the order quantity, manufacturing processes, material, structure, etc.
CONTACT US FOR HELP WITH CUSTOM SOLUTIONS TO BEST DISPLAY YOUR PRODUCT!