Product Description
Size: Large
Product Name: Large Cigar Humidor Cabinet
Introducing the improved efficient moisture-increasing Cigar Humidor Cabinet with newly designed hinges for maximum range and durability. We at AoChen Display began selling this acrylic humidor when we realized that glass top humidors produced inefficient preservation ranges. We searched for a completely see-through humidor that maintained all the qualities of a functional humidor and came up with this acrylic humidor. What differentiates us from glass top and plastic humidors is that glass leaks moisture where the glass meets the wood but acrylic material does not. Now if you want to showcase your pre-rolled cones or cigars you can. Stick a humidifying pack in your humidor and let your cigars sit for more than 1 year!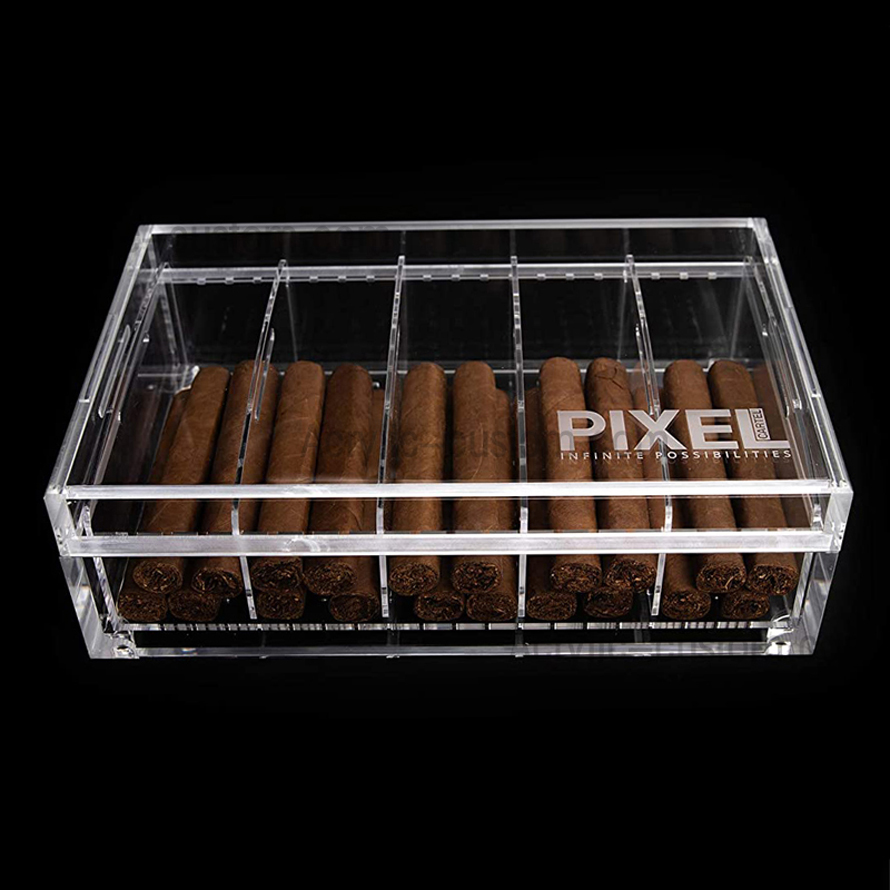 Features:
1. Freshness | Keeps Content Fresh for up to 1 Year, Perfect Combination with a Boveda 62.
2. Materials | This Cigar Box is made from Acrylic which Promotes Moisture Efficiency.
3. Functionalities | This Cigar Case can hold between50-70 standard-sized Cigars to Smoke.
4. Sizing | This humidor has the following dimensions: 4'' in Height, 12.5'' in Length, 8'' in Width 8.5'' in Width 5.75'' in Depth 2.75'' in Height.
5. Modern Approach | No Wood = No Maintenance! Perfect Addition to your Cigar Accessories.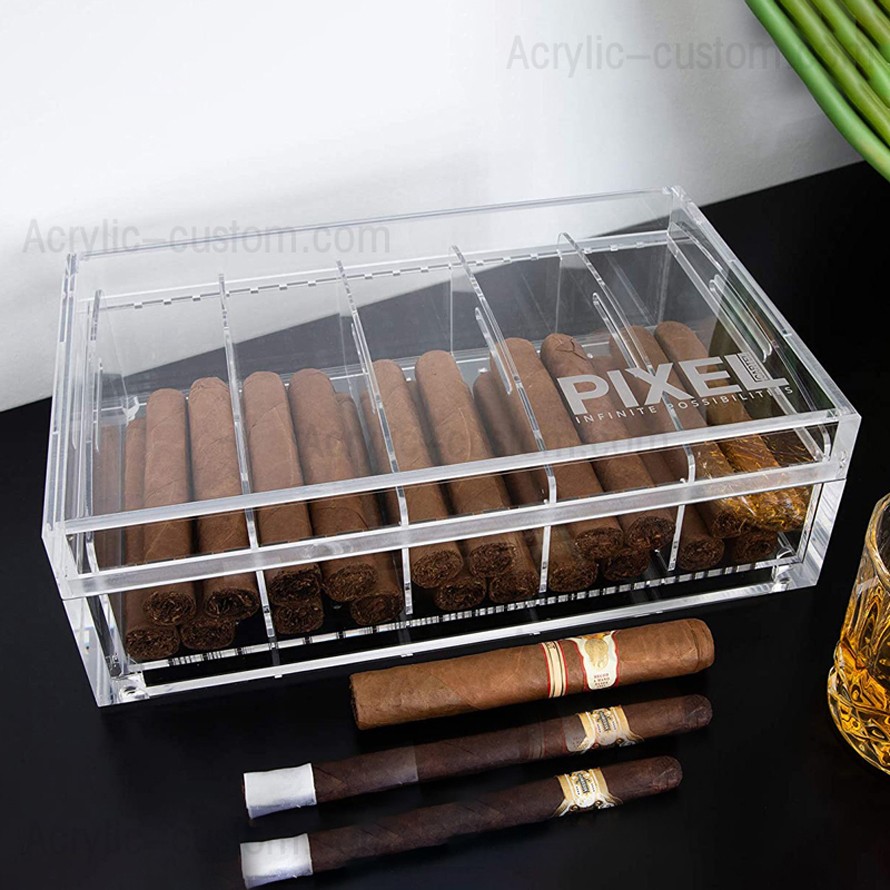 Why a Humidor?
Why would you want to invest your money in premium cigars and let them lose the freshness and value and throw it all to waste? Choosing not to have a humidor to store your premium cigars, you are doing exactly that. Improper Cigar storage can lead to uneven burning and discomposed texture as well as unnecessary added scents and dampness. Because the tobacco from the cigars is grown in tropical areas, it is important to keep the cigars properly humidified to help finish their proper aging.
About Acrylic Display/Acrylic Boxes or Other Acrylic Products Customization:
All our Acrylic Display/Acrylic Boxes are custom, The appearance & structure can be designed according to your requirements, Our designer will also consider according to the practical application and provide you the best & professional advice. So we have MOQ for each item, at least 100PCS per size/per color/per item.
Creative Design:
We will design according to your product's market positioning and practical application, Improve your product image and visual experience.
Recommended Plan:
If you do not have clear requirements, please provide us with your products, our professional designer will provide you several creative solutions, and you can choose the best one, We also provide OEM & ODM services.
About The Quotation:
The quotation engineer will provide you a quotation comprehensively, combining the order quantity, manufacturing processes, material, structure, etc.
CONTACT US FOR HELP WITH CUSTOM SOLUTIONS TO BEST DISPLAY YOUR PRODUCT!